Wine & Food Pairing
A "Lazy Pairing": Hot Dog And Riesling
Introduction
How many times have you been feeling lazy (especially on Sundays) and didn't even want to get up from the bed to eat something? Don't feel guilty if you did. Everyone needs some "me time", especially after a long and stressful week! However, everyone likes to have a delicious meal anyway.
This post is for those wine lovers who felt and feel this way. Because here we are going to bring up a wine-food pairing that can come in handy not only for those who are feeling lazy but even for those who aren't expert chefs.
It's something that almost anyone in the world loves. So easy, so simple. Considered street food by many, this "dish" saved us several times especially if we had to eat a quick bite and get back to work afterward. If you are a food lover, we won't need to explain to you that sausages are great in Germany. We can't even count all the different types of sausages they can eat in Germany on a daily basis. For sure it isn't the nation where vegan or vegetarian account for the majority of the population.
And how could we blame them? Pork and every kind of meat are great there. If you are a wine lover instead, we won't need to point out where the best Rieslings come from. Germany is the quintessential territory of this grape variety. Especially Mosel with its steep slopes (for the record, the steepest in the world is Calmont and it's right here) is famous for its acidity-driven Rieslings.
And, if you are a lazy wine-food lover, you already know where we are coming from. Perhaps you are already picturing how good this food and wine pairing could be. But hold your horses and you would know so much more about this paring. And you will be finally ready to know the reason why this match is actually a great marriage.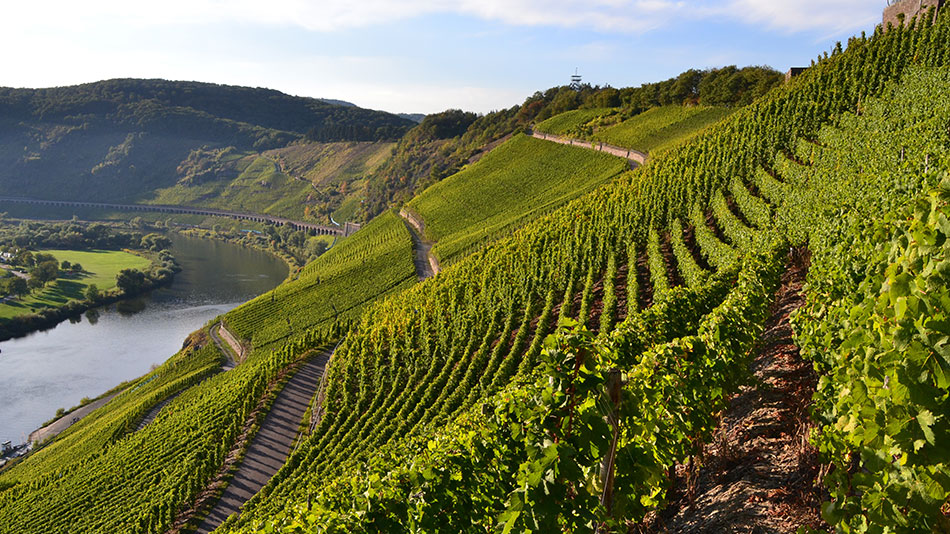 ---
Wine: Riesling from Germany (Mosel)
We already discussed how steep slopes are in Mosel. You can then understand that winemakers will have to work on vineyards and fields without any machines. And this is actually great for vines that can last and "live" for a longer time. Despite how good technology might be nowadays, there isn't anything more gentle than the "human touch". Even the best machine in the world couldn't be as good as human beings in the vineyards. But we aren't here to discuss this delicate topic. We are here to point out that the older vineyards are, the better their grapes.
Those vineyards are even among the most northern ones in Germany. That's the reason why each ray of sunlight and warmth must be maximized. And you'll never see north-facing vineyard here in Mosel. The climate is too severe and cold and vineyards can't successfully grow there. The best vineyards are the ones on south-facing slopes and quite close to the Mosel river too. This way grapes can ripen enough since they can benefit from more sunlight and even the reflection of it thanks to the river.
Rieslings made under these extreme weather conditions are among the most sought-after in the world. German winemakers even created a specific word to describe the acidity that is mainly dominating in each wine here: the "round" or "fine" acidity. They are very proud of this beautiful acidity as they see it as an added value for their wines. And it's actually thanks to this acidity that these wines are so ageworthy. It's not uncommon to drink thirty-year-old Riesling if it comes from cold places such as Mosel.
---
But the thing is that these wines are tricky. And people would think that these Riesling would need a quite light dish as they are light to medium-bodied wines. Well, we are sorry to inform you that German people usually pair it with pork or white meat too. But why? How can it work?
Figure 2: A sketch of Riesling and sausages (bonapettit.com, 2016)
---
First of all, the refreshing properties of these wines can act as natural cleansers and prepare the mouth for the next fat bite. Secondly, German cuisine is very salty, and a thirst-quenching Riesling could help you and satisfy your thirst. Last but not least, these wines can totally stand up to meat pairings. They aren't light-bodied at all. It's due to the high acidity levels that German wines appear to be weightless on the palate.
It comes naturally that tasty German sausages, wrapped on soft bread could be the best companion for a Riesling like this one. Not to mention if you add a bit of delicious mustard (and "Crauti" if you have them) to spice things up. This easy recipe can literally save your life if you feel lazy and don't want to cook. It's easy to make and you only need some German sausages (aka würstel), mustard, and hot dog bread. Easy, fast, and cheap! This means that you can afford a more expensive Riesling, doesn't it?
Food: German Sausages And Mustard
As discussed earlier, Germans love meat and any dish based on it. But the many types of sausages you might found out there will surprise you. We honestly thought that there was only a kind of sausage we could eat with our hot dog. But we were wrong. And this will make this food and wine pairing even more interesting as you can buy, taste and experience completely different flavors bite after bite.
These are the 4 sausages that we have been tasting so far. But, trust me when we tell you that we aren't even halfway to taste all of them. The thing they all have in common, and this is what really matters, is that every sausage is easy and fast to cook. And this is why we came up with this pairing, right?
Bratwurst and Rostbratwurst
Bratwurst and Rostbratwurst is a sausage made from finely minced pork and beef and usually grilled. It is usually served with sweet German mustard and a piece of bread to stand better the salty dish. These sausages work very well with Rieslings from Mosel as they are fatter. Higher acidity levels can make the dish taste lighter.
Figure 3: Bratwurst and Rostbratwurst (meatandsausages.com, 2019)
---
Nürnberger Rostbratwurst
Nürnberger Rostbratwursts are smaller (pinkie finger-sized) bratwurst sausages. These sausages are made with veal and beef, flavored with marjoram, and a source of great national (for the state of Franconia) pride. They're served with sauerkraut (aka "Crauti") and potatoes with a side of horseradish cream. A Riesling from Rheingau is the perfect companion for this more aromatic dish. They are richer, rounder, and more "tropical" than Rieslings from Mosel.
Figure 4: Nürnberger Rostbratwurst and sauerkraut (shutterstock.com, 2020)
---
Bockwurst
Bockwurst originated in Frankfurt and is made from veal with some pork or other meats and flavored with salt, pepper, and paprika. It is boiled and usually eaten with mustard. This is the sausage we are more familiar with since it mainly used for the famous hot dog. Hungarian wines would be the best pairing for this dish. It's well known that a wine based on Kadarka, an indigenous grape from Hungary, is the perfect pairing for paprika based dishes. But a Riesling from Rheingau and/ or Pfalz could still work.
Figure 5: Bockwurst (monacobaviera.net, 2020)
---
Weisswurst
Weiβwurst ("white sausage") is a traditional sausage of Southern Germany made with veal and bacon and flavored with parsley, onion, lemon, and cardamom. This sausage is boiled and eaten without the skin. Because it traditionally contains no preservatives, weiβwurst is usually eaten before noon with some sweet mustard, and perhaps soft pretzels. A Furmint from Burgenland (Austria) would be perfect. But if this is difficult to find, a Riesling from Wachau will work as well.
Figure 6: Weiβwurst, soft pretzels and parsley (monacodibaviera.com, 2020)
---
Conclusions
Beef, veal, pork are just a few of the ingredients German producers use in order to make their tasty sausages. We read that it exists a version with horse meat as well, for those that want something lighter. And of course, chicken sausages can't be missing either in the list. In other words, it's basically impossible to not find the kind of meat that you like. Germans can satisfy every palate when it comes to sausages.
We wanted to show you how many "shades" a simple dish, such as a hot dog, might have. Of course, you can't find these sausages everywhere in the world. But the hot dog and Riesling pairing could even work with the simplest sausage. So, don't bother too much to look for the ones we mentioned above. They are just a few suggestions we gave you since we tasted them (and they were delicious!).
So what are you waiting for? Go to the closest grocery store and pick up the sausages you like to pair with (possibly) a German Riesling. You will be amazed by the pleasant experience and you wouldn't feel guilty anymore while you are being a couch potato on a lazy Sunday evening. After all, Sunday is Fun Day and we deserve to enjoy ourselves as we wish.
---