Grape Masterclass
Sagrantino: The Umbrian Grape With Powerful Grip
Introduction
Have you ever heard of Sagrantino? Did you know how old that grape is? If not, keep reading, you'll discover a whole new world.
Italy is famous for its indigenous grapes. Grapes that you can only drink when you are within a specific region, or even a specific commune. Sometimes things get very confusing as the names of different grape varieties vary according to the regions you visit. And this is how Nebbiolo becomes "Spanna" in the northern Piedmont, or "Chiavennasca" in Lombardy, more specifically Valtellina. But some other times, there are different clones that people mistake and consider to be the same grape varieties. This happens with "Brunello", a clone of Sangiovese only grown in the vineyards around the town of Montalcino.
But this doesn't happen for grapes such as Sagrantino. Grapes like these ones are more than indigenous. They are as ancient as the land of the places they are grown in. Hence, they are deeply related to the territory and the culture of the region. Don't get me wrong though. This doesn't necessarily mean that they are the leading grapes in terms of production. Sagrantino only accounts the 8% of the total production of red wines. And that is the reason why many consider it to be outstanding. Despite its small production, people around Italy know this grape, which has been able to build its own reputation throughout the years. People from North and South of Italy are very much likely to know this grape and the beautiful "Foliage" of its vines during the autumn despite the distance.
The Origin of Sagrantino
Sagrantino was described in the late 19th century as an old variety from the Montefalco area in the province of Perugia, in Umbria. It looks like Byzantine Monks from Greece introduced it in the Middle Ages, or from Asia Minor by Franciscans.
It seems that its name derives from "Sacro", meaning " Sacred" or "Sacrestia", meaning "Sacristy" for its use in a sacred contest.
At first, this wine was produced only in its sweet version and consumed especially during Easter festivity to digest the huge amount of lamb that Umbrians usually eat on that day.
The variety became almost extinct in the 1960s and if it wasn't for a gentleman called Marco Caprai, we wouldn't be talking about this grape nowadays. Thanks to him and other local winemakers, who believed in the quality and potential of this variety, the wine is mainly present in the dry version today. After investing a tremendous amount of time and effort, Sagrantino attained the DOC status in 1979. We had to wait until 1992, when it got the promotion to DOCG. Sagrantino grows in Montefalco and the surrounding communes of Bevagna, Gualdo Cattaneo, Castel Ritaldi, and Giano.
It's made as a varietal wine for the DOCGs but a small amount, maximum 15%, of Sangiovese may be blended for the Montefalco DOC to soften the high tannin level of Sagrantino grapes. We believe that winemakers started doing it to sell the product faster. People wanted to buy a wine that was ready to drink right away. For sure a wine based on 100% Sagrantino couldn't satisfy their thirst (or even worse it could cut their tongue…). We definitely recommend this wine to wine lovers or collectors. This is the kind of wine to buy in cases and forget in the cellar for at least ten years.
Characteristics of Sagrantino
Late ripening
Thick-skinned
Very high tannin levels
Medium to High acidity levels
Full-bodied wines
Resistant to winter and spring frost
Susceptible to downy mildew
Best suitable for limestone and clay soils
Best in continental climate
Long-aging wines
Unique of Umbria
Many consider Sagrantino as a good alternative to Amarone. But we disagree. The only thing they have in common is the fact that they produce full-bodied wines with high alcohol content. However, the structural components are completely different. Tannins are responsible for the Sagrantino's structural components. In fact, a recent study conducted by Fulvio Mattivi et al. at the Edmund Mach Foundation indicates it may well be the most tannic grape in the world (Kevin, 2018).
Whereas sugar is the main component responsible for the full-bodied Amarone wines. With this in mind, as Sommeliers, we would never recommend a Sagrantino as a substitute for an Amarone. What we would personally recommend is a big boy from Rioja or, even better, from Ribera del Duero instead.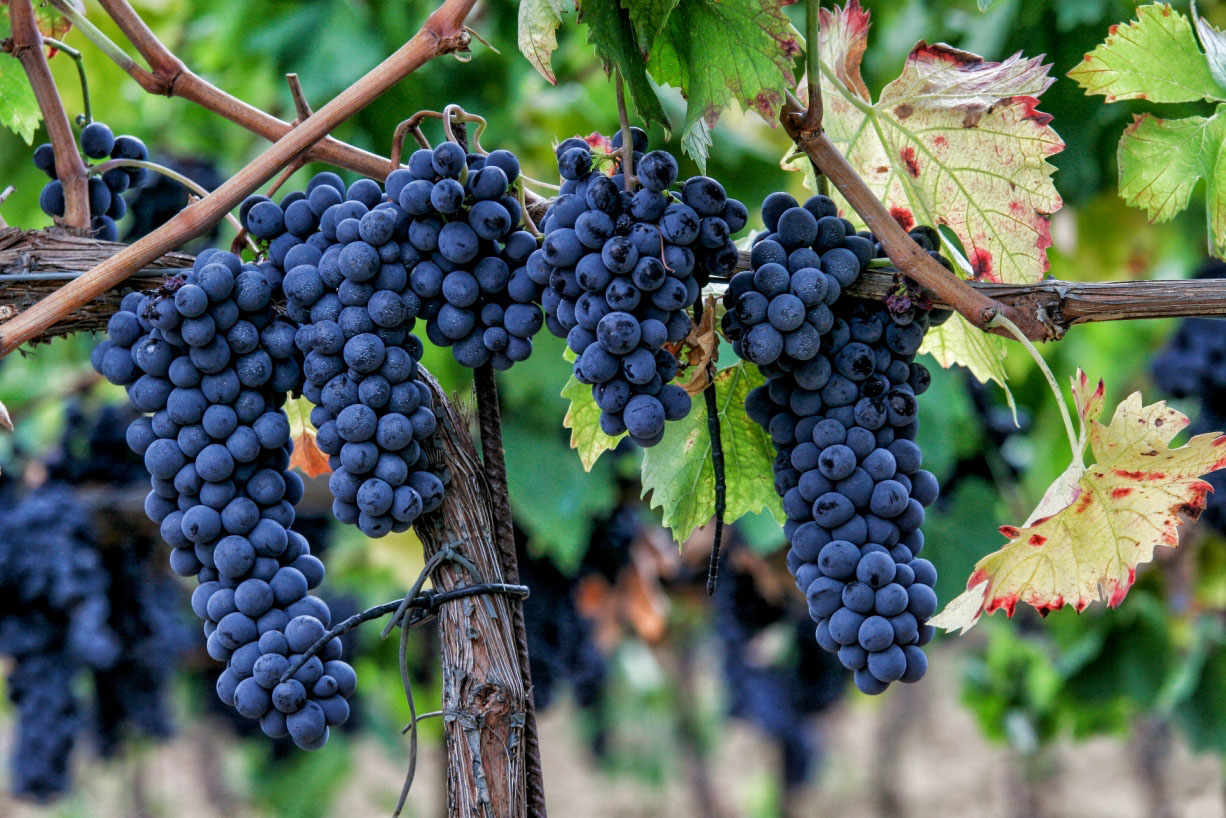 Sagrantino: Sweet or Dry?
Have you ever tasted a sweet wine with some pleasant grip too? Well, we wouldn't be surprised if you didn't as it's a local specialty here in Umbria and it's called Sagrantino Passito. So rich is it in the color that you would easily mistake it for ink. The nose evokes blackberries, dried fruits, and cinnamon. The taste is particularly balanced. The dense tannins delicately unite the acidity and the sweetness, creating a gustatory sensation of absolute harmony. The Sagrantino grapes hung to dry on "graticci" to concentrate their flavors and sugars. In the past, the Sagrantino Passito was the only wine produced from the Sagrantino varietal, and it was drunk during religious ceremonies in the villages of the Montefalco area.
This is the sweet version, but the dry one is completely different of course. The color appears dark ruby with garnet shades with bottle aging. The nose presents an explosion of blackberry jam, white pepper, clove, and vanilla aromas. And in the best examples, also balsamic notes with a hint of powder. Really aggressive when young, Sagrantino wines need you to be patient. Beautiful things always need time to happen after all. After at least a decade, the flavors become much more complex and elegant. The tannins evolve and become velvety and silky. Not to mention the finish. Extremely long and persistent. The PAI as we say among Italian Sommeliers is outstanding. That kind of flavors that linger in your mouth even after brushing your teeth. The mouthfeel is surprising and you won't want to stop drinking it. It's what we define "an iron fist in a velvet glove".
What is the PAI?

PAI (Persistenza Aromatica Intensa): the measure of the aromatic persistence or "length" of wine in the mouth after tasting it. It is expressed in seconds, referred to as "Caudalie" among Sommeliers. A short wine will score 2-4 caudalies, a great one will go even beyond 10.

The Wine Jokers
Wine Jokers' Recommendation
It's very hard for us to give you a piece of advice when it comes to the best Sagrantinos. There are so many good producers and winemakers are improving year after year. This is the kind of wine that everyone would want to have in the wine cellars as it can age for decades.
We have selected for you some of the producers you can't miss:
All these producers make exceptional dry and sweet Sagrantinos. However there is a wine to not miss. Scacciadiavoli winery makes a Traditional Method Sparkling Brut Rosé made from 100% Sagrantino grapes. We personally tried it out during the "Cantine Aperte" and we bought a bottle straight away. It is an unusual rosé as its texture and body are higher than the ones of other rosé wines. We honestly wouldn't be surprised if someone paired it with a rare steak. This wine can definitely stand up to it.
Conclusion
Sagrantino wines aren't very well known across the world yet. But these wines have got high aging potential and wine experts are comparing them to the best Amarones as well. As we said earlier, we partially disagree with those who think so, but we do agree in one thing: these wines have got a great personality. Their texture and body won't be easy to forget, once you try them.
It doesn't matter if you're drinking a dry, sweet (or don't forget, even sparkling) version of it. Sagrantino will make you fall in love with its high tannin levels, which makes it worth the wait. It is the Umbrian answer to the greatest Barolo and Barbaresco. To the famous "Super Tuscans" and Amarones as well. But it goes even farther. It's the wine we would suggest to Spanish wine lovers who love the full-bodied wines from Rioja or Ribera del Duero.
In other words, Umbrian winemakers are very proud of this amazing and, somehow, unique wine. And we are sure you would understand why, after giving it a try.