Grape Masterclass
Biancolella: The Best-Kept Secret From Ischia
Introduction
South of Italy is famous for its countless indigenous grape varieties. Knowing them all is almost impossible even for Italian Sommeliers or wine experts. Wine books rarely mention them. Not because they aren't worth it, but because their origins are usually ancient and, as a result, they are becoming "Dinosaurs" nowadays.
We know your feelings right now. You are thinking that you would love to know all the grapes in the world. Unfortunately, it's our duty to warn you that it's almost impossible to do that. This requires knowledge and experience. The best way to do so though is to meet small local producers and get to visit their vineyards and cellars.
This is the way we got to know the interesting Biancolella. Only 293 ha were recorded in 2000. We bet that the majority doesn't even know where this grape comes from indeed. Well, we would be part of the majority if it wasn't for our dad who has been visiting Ischia for years. He introduced this refreshing indigenous grape, and we were happy to see that some producers have been able to reach important markets such as New York nowadays.
The Wine Jokers are here to save these "endangered species". You will only have to join us in this incredible adventure.
Let's get to know Biancolella all together!
The Origins of Biancolella
Biancolella is an indigenous grape of the island of Ischia, in the bay of Napoli (Campania). It isn't surprising that this variety isn't very common yet, as it has been mentioned for the very first time in the 19th century.
A study conducted by Costantini et al. (2005) proves that the "San Nicola" grape variety cultivated on the wonderful island of Capri is identical to Biancolella. This white grape variety could be the father of "San Lunardo", always from the lovely island of Ischia (Cipriani et al., 2010) and closely related to "Falanghina Beneventana" (Costantini et al., 2005).
Like many other Italian grapes, especially from the South of Italy, Greeks could have brought this variety to Ischia. In fact, the island was a former Greek colony. However, there is no evidence for this hypothesis.
Characteristics of Biancolella
Late ripening
Thin-skinned
Medium to high acidity levels
Medium to full-bodied wines
Best suitable for Volcanic soils
Only in the Mediterranean climate
To be appreciated when young
Unique of Ischia (and nearby Islands such as Capri)
Generally speaking, you expect full-bodied wines when you drink something from the South of Italy. No matter red or white, wines here are fuller in the body than the ones from the North.
However, Biancolella can be an exception. Or better, you might think that this is the exception. But why? Like the great whites from Germany or Austria, wines from Biancolella are tricky. They can seem weightless in the palate, but they aren't at all. That's because the highest structural component is the acidity. And other components such as alcohol and sugar are barely palpable.
But this acidity is so wonderful that winemakers do as much as they can to preserve it. The majority of them, especially the traditionalists, would never think about using oak barrels when it comes to Biancolella. The oak impact could overwhelm the unique traits of the refreshing grapes. That's why stainless steel tanks are always the first winemakers' choice to preserve the Biancolella's round acidity. In spite of it, wines have a natural aroma of pineapple and fresh almond that could make you think it underwent oak aging (at least).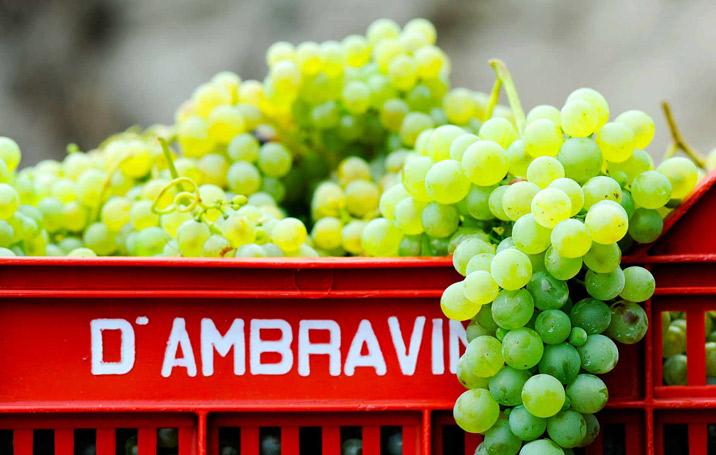 Biacolella: Where To Find
As we said earlier, this white variety is mainly cultivated in the island of Ischia. However, it also grows on other volcanic soils whit Mediterranean climates such as in the provinces of Napoli and Caserta. Even though it must be verified, it seems that it's also possibly grown near Bastia and San Martino di Lota on Corse (France), where they call it Petit Blanche.
It's present in DOCs such as:
Ischia DOC;
Capri DOC;
Campi Flegrei;
Penisola Sorrentina;
Costa d'Amalfi;
On Ischia, Biancolella usually blends with other local varieties. A few growers though produce monovarietal wines based on this grape. Some of them represent a perfect example of heroic viticulture.
---
Heroic viticulture

It refers to extreme conditions in which winemakers have to cultivate their vines. Despite the sometimes dangerous conditions, vintners still managed to produce outstanding wines. Winemakers can't use machines here, so they built a system of monorail train to transport the hand-picked grapes. Some Italian examples of heroic viticulture are in Liguria ("the five lands"), Lombardy (the famous "Terrazzamenti"), and Ischia.

Source: The Wine Jokers (2020)
---
Winemakers harvest Casa d'Ambra's "Frassitelli" (100% Biancolella) with the help of monorail trains on the steep hillside vineards of Monte Epomeo (at 600m above sea level).
But the most extreme example is Cantine Antonio Mazzella's "Vigna del Lume" (100% Biancolella). This wine comes from a vineyard located 150m above the sea and it's reachable only from an old food-path. The late picked grapes are pressed and vinified in old cellars dug in soft tuffeau rock nearby. Then, the wine is transported by sea on wooden boats and bottled on the mainland. Just for your information, "Vigna del Lume" has been awarded by Vinitaly 2018 as THE BEST ITALIAN WHITE WINE.
---
The Wine Jokers' recommendations:
---
Conclusions
Biancolella is just one of the "forgotten grapes" of the Italian wine heritage. Grapes such as this one are the best expression of terroir as they have always been linked to it. It's like if Ischia couldn't exist without this grape variety and vice-versa. And for sure it would be a pity if it was so.
Unfortunately, people are usually looking for famous labels or grape varieties. And they might miss the chance to taste something as good as Biancolella. These are the wines that can let everyone speechless during a blind tasting indeed. Where no one knows anything about the bottles they are about to drink. There are no bias.
The fact that these wines are hard to find anywhere else apart from the region (or even district) they come from, doesn't have to be a weakness. This should actually be an added value. This is the reason why we always drink local whenever we visit a specific wine region. The punch line is that we found this indigenous and rare grape variety thanks to our dad. And, even though he can't be defined as a wine expert, Biancolella is definitely a grape for those who love wine and the local culture of Ischia.
---